Elder of the Greek Evangelical Church of Nicosia (alum. Greek Program)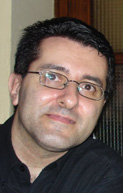 I remember when I had made the decision to go to the Greek Bible College it was because I believed that I knew very little about God and I was thirsty to learn more. I was surprised to find out, already in my first month there, that I did not simply know just a few things but nothing at all! The Greek Bible College was for me an ocean of knowledge from where I hungrily derived precious and nutritious elements for my spiritual growth.
Something that I especially appreciated was that God did not just teach me in the classroom but also in the corridors, in the dining hall, in the dorms and in the outreach. My life was enriched by the daily communion and the conversations with God's people. Looking back I can feel nothing else but deep gratitude to God for the good foundations the Greek Bible College has set in my life, teaching me to build my life, not in life's circumstances, but in the eternal word of God!