Olympia Tassouli
(Greek Program)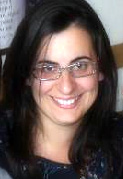 My name is Olympia Tasouli and I am a 3rd year student at the Greek Bible College. In the course of these 3 years I have acquired priceless knowledge, but what I regard as extremely important is that it was in this place that I was given the opportunity to serve people who live and work at the center of Athens.
I am referring specifically to the ministry called "New Life" that serves people who are prostituted and/or are victims of human trafficking. My first introduction to the directors of "New Life" was here at the Greek Bible College in the beginning of my first year. Since then and until today, apart from that first connection with the ministry, I received the analogous "framing" – theoretical knowledge and daily support – so that I would be able to continue in this ministry with joy.
Especially through classes that were specifically oriented towards practical ministry, I learned ways to let God serve me as I serve others, to perceive how God works in various ways and how He gave different gifts to His people to be used for the sake of His glory.
Elina Karampatsou
(Greek Program)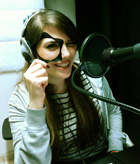 Every Friday afternoon I go to Kolonaki where the base of Streetlights is found. What we do there is live broadcasting through GodRadio.gr. We broadcast Christian music, news from around the world and keeping company to people. It's so nice to have a voice;  it's so nice that we get to have a Christian radio!
There were many instances on the radio when a theological issue was raised or a theological discussion took place that had to do with practical Christian life. I thank God for the critical thinking I have developed at the Greek Bible College, through which I am able to think and talk about matters of the Christian faith fearlessly and with even greater certainty. In a world where everyone is well-read and have built up their impenetrable forts, it would be silly for people who love God not be "in the know"!