(alum. Greek Program)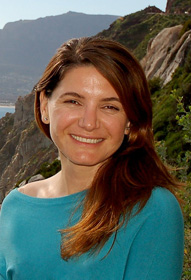 Growing up in a communist country and experiencing the constant persecution of the Christian believers around me, I could not think a day would come when I would freely declare God's name and serve His Kingdom. With the secret meetings we held and with only one Bible for the entire area at that time, my hunger for God's Word was growing and the desire of my heart was to know Him more and more.
God "made a way" for me to come to Greece, and for the first time I was free to worship Him and study His word. With my personal Bible in hand, I started the journey of exploring the Scripturesfor my personal spiritual growth and knowledge.
Even when I enrolled at the Greek Bible College – my motive was to gain more knowledge of the depths of the Word of God. Little did I know at that time that God had more in store and that He was preparing me for the ministry ahead.
Four years at the Greek Bible College were for me an ocean of knowledge, spiritual growth and experiences that began to shape Christ's character in my life. The Christian environment, the high academic level of teaching, the diverse theological views and the "koinonia" with the professors and students from different backgrounds taught me how one should be a humble servant who is open to listen, respect and appreciate the diversity. These elements transformed me from a "receiver of knowledge" to a giver of Gods' truth and compassion to others.
During the years of my studies, God burdened my heart for people who have lost their freedom and their dignity, who have been often forced into the sex industry. As a full time missionary with Nea Zoi I can see how helpful and needed were the years of studying as I now apply the truths of God's word with those marginalized and sexually abused. Αlthough it is challenging at times, it is yet rewarding to be part of the movement of transforming lives. I am constantly in awe of God's power and unfailing drive to free the captive, give hope to the hopeless and heal the broken!
Viorica Tataru
Nea Zoi Association for the Support and Restoration of Individuals in Prostitution (www.neazoi.org)