(alum. Greek Program)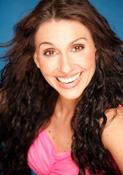 Before enrolling into the Greek Bible College I thought I knew enough about God and His word, as I grew up studying it. I believed that by going to the College I would simply deepen my knowledge and I would build on what I already knew. However, I realized that whatever I knew up to that point was the tip of the iceberg for which I knew so little.
At the Greek Bible College I was given the opportunity to explore the depth and the foundations of the wealth of God's word. I was given the chance to: understand the theology of other brothers and sisters, learn to respect other views, coexist with people's idiosyncrasies that are different to mine, recognize how little I know and how much more there is for me to learn. Coming to the College was a decision that will give me plenty of fruit to enjoy for a lifetime.