(alum. International Student Program)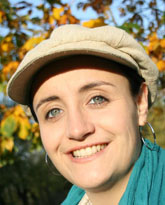 The Greek Bible College was instrumental to my spiritual growth and is one of the high points of my life. I come from a none-church background and was a fairly new believer when I first arrived from Iceland. The college allowed me to leave my home setting and get a good footing in theology while my classmates gave me a good example of what it means to live as a godly person, both of which I needed.
Spending time in a cross-cultural setting and getting to know the Greeks and the Greek culture was refreshing and a lot of fun. It allowed me to broaden my horizon as well as come to terms with a new language. A language I now minister in! Throughout the school year I was involved in various ministries within Hellenic Ministries (HM) and as soon as I graduated from the Greek Bible College in 2005 I joined HM full time, together with 3 of my classmates.
I highly recommend the International Student Program and I know it will change your life as it changed mine! Be prepared to be challenged, to be engaged and to learn new things about God and about yourself.