(alum. Greek Program)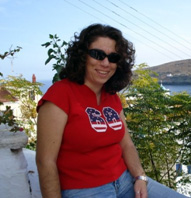 My name is Elena Katsouridou and I come from Cyprus . I had been working in a bank up to four years ago, when God called me to follow Him into His service. At that point I left everything behind, a steady job I had at a local bank for over ten years, my house, my friends and my country and attended the Greek Bible College in Athens to study Theology for two years. After that I returned back to Cyprus from where I continued my studies with Liberty Online University with a major in Psychology (Christian Counseling specialization) and a minor in Biblical Studies.
My vision is, after attaining my degree in psychology and Christian counseling, to use my knowledge for God's glory and serve Him while serving people in Cyprus.
The time I spent at the Greek Bible College was a journey that totally transformed me and still is transforming me since this was much more than a journey abroad but indeed a life changing experience. Pursuing a diploma in Theology at the Greek Bible College offered me much more than academic knowledge as I was exposed to a multicultural setting through working voluntarily in various ministries and serving a vast range of people: from feeding refugees to sharing a kind word and a cup of coffee with victims of trafficking in the middle of the night.